Experience You Can Trust
At Industrial Valve, our senior actuation technician has nearly 20 years of experience troubleshooting, repairing, and replacing faulty actuators and actuator parts. That experience is passed on to our actuation technician team through a rigorous training program and ongoing education.
Our actuator technicians are fully equipped to bore and thread stem nuts, fabricate mounting hardware, and conduct mag particle inspections and other NDTs. We also have a wide inventory of new and surplus actuators and actuator components, including discontinued and hard-to-find parts.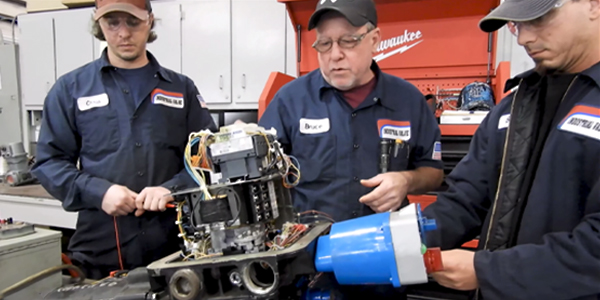 Actuator Diagnostics
Depending on the type of actuator, malfunctions may occur because of clogged parts, faulty seals, a broken spring in the spring return, a leaky piston, a blown fuse, or numerous other reasons. We won't try to sell you an expensive solution if your actuator just needs a good cleaning and a few new parts. We can remove and inspect all components, replace worn parts, reassemble your actuator (using a new seal kit), and conduct testing to make sure everything is operating properly.
Actuator Sizing
Whether you have a manual, pneumatic, hydraulic, or gas-over-oil actuator, proper sizing is essential. An actuator that is larger than necessary can damage the valve stem, and an undersized actuator may fail under high process loading. When our technicians inspect your actuator, we'll examine whether it's the ideal size for your processes.
Complete Valve and Actuator Services
Industrial Valve is a full-service valve and actuator supplier. We offer repair, removal, and installation services, along with specialty services such as metallurgical testing and particle-free cleaning (now available via our mobile cleaning vehicle).
If outstanding customer service and technical expertise are important to you, we encourage you to contact us today. We're happy to answer any questions you may have about actuators, actuator parts, or actuator repair!