On the road again
Industrial Valve technicians recently returned from an outage service job for a pulp and paper customer in Florida. This was a major undertaking utilizing 23 technicians during the day shift, and 14 overnight to complete the job in one week's time to our customer's full satisfaction.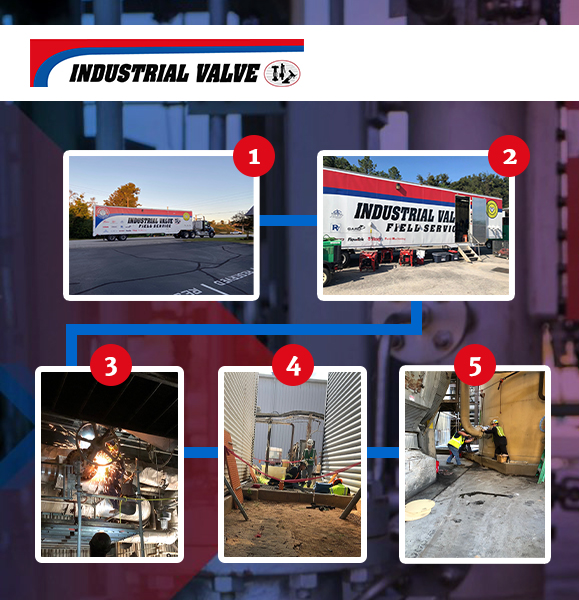 The work completed
Our Industrial Valve field service trailer heads off down I-10.
Setting up on the job site includes assembling safety equipment, meeting with our on-site plant manager, and conducting a walk-through to review all work to be completed.
Hot work! Sparks fly as our expert welder cuts out the bolts on a valve that hadn't been serviced in a very long time. After cutting the bolts, our tech pulled the valve and installed a new, furnished valve in-line.
Valve service work included repairs, replacement, and reinstallation of safety valves and manual valves. (Number of valves serviced: 80!) We also replaced a number of parts, including bonnets and gaskets, and performed in-line repairs where they were needed.
Reinstalling the valves. After every installation, we conduct testing to ensure proper valve performance.
Additionally, there were no safety incidents, and Industrial Valve's corporate safety manager was on site every day during the process.
Need service? Call us at (800) 523-2159.