Benefits of Paperless Recordkeeping
Paper records have some drawbacks – most notably, they can be easily damaged or misplaced. Plus, handwriting isn't consistent from person to person, which can be problematic when you're trying to decipher notes from a previous valve inspection.
Switching from paper recordkeeping to a digital valve management system (VMS) can take some time, but making that change can increase efficiency and ensure you're always in compliance. Take a look at these reasons why it may be time for you to migrate your records to a VMS:
You'll be audit-ready.
Audits are much easier when you can gather your service records in minutes. Use your VMS to show documentation of service dates and repairs, and export reports for anyone who needs to see them.
You'll be OSHA-ready.
In the event a valve failure causes a serious workplace injury, OSHA will want to review your maintenance records. You can quickly produce the reports OSHA inspectors need for their investigation (and possibly shield your business from liability, if your records show you've been diligent about maintenance and repairs).
You can document chain of custody.
When a problem arises due to operator error, you can more easily detect the actions (or inactions) that preceded the failure, by viewing activity logs in your VMS.
You can better track valve lifecycles.
With the ability to store up to five years of data for every valve or actuator in your facility, you can more accurately predict when valves are nearing the end of their lifecycle.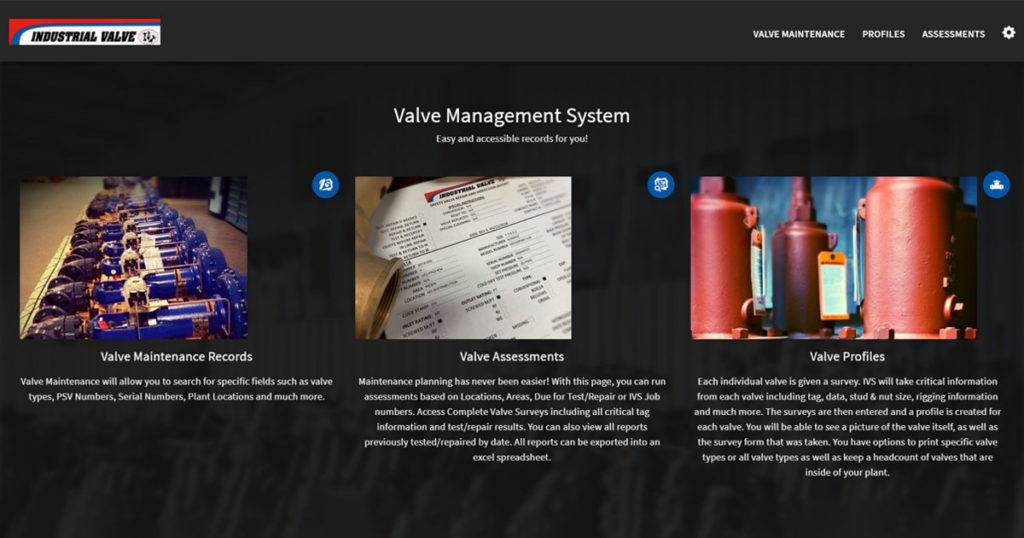 You can access data remotely.
Access digital records from wherever you may be, and share files with other stakeholders.
You can prove quality.
If metallurgical testing is part of your process, your VMS can store results of those tests, should you ever need to share them with your end-user.
You'll get reminders.
No need to track when your valves are due for maintenance – your VMS will alert you when it's time.
Why We Use Our Own VMS
At Industrial Valve, we use our proprietary VMS to better manage our business. We store customer data and serve as a backup to your VMS, letting you know when it's time for maintenance.
Are you ready to improve your records management process, reduce opportunity for error, and increase efficiency? Contact us now to ask about our VMS.